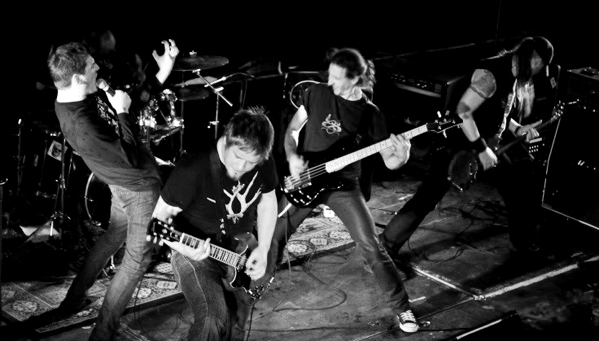 BLACK CODE is a crust-metal band, formed in February 2011 in Besancon, east of France.

After a CDR-demo in the end of 2011, the first album Lp/CD ''Hanged, Drawn & Quartered'' came out in September 2012. In May 2013, a split Ep 7'' with their friends LUST FOR DEATH (Stenchcore France) is available... A tape called 'MMXIV' with 5 new tracks came out in June 2014. Coming soon, a split LP 12'' with UNREST (crust Germany).

They have already played some gigs in France, Switzerland, Belgium, Spain, Austria, UK and Germany... and they are looking for dates anywhere.



VIDEO :






PAST GIGS :

24/01/2015 : Besancon (F) Impure Fest +...

05/09/2014 : Llanfyllin (UK) Dirty Weekend Fest
08/09/2014 : Liverpool (UK) McGuire Pizza Bar
09/09/2014 : Manchester (UK) Wahlbar
10/09/2014 : Sheffield (UK) HELP NEEDED!!!
11/09/2014 : Derby (UK) Sitwell Tavern
12/09/2014 : Bristol (UK) The Red Lion
13/09/2014 : London (UK) The Montage Arms
20/09/2014 : Geel (B) No Sanctuary Fest +...
06/12/2014 : Geneve (CH) Zona Mutante +...
20/12/2014 : Dijon (F) Tanneries +...
22/08/2014 : Chambalon (F) YellFest +PARISO(uk) +WARFUCK(f)
11/07/2014 : Fresse s/ Moselle (CH) ANF Festival
28/06/2014 : Strasbourg (F) Dream Comes True Fest
07/06/2014 : Clamecy (F) Taprischer Fest

ON TOUR WITH LUST FOR DEATH (StenchCore/F) Spring 2014 :
17/04/2014 : Geneve (CH) Metallus
18/04/2014 : Bologna (I) Queen of Chaos Fest
19/04/2014 : Modena (I) Anrkholocaust Fest
20/04/2014 : Zagreb (CRO) Akc Medika
21/04/2014 : Beograd (SER) Inex Film Squatt
22/04/2014 : Sarajevo (BOS) AG Club
23/04/2014 : Zadar (CRO) Kazaliste Lutaka
25/04/2014 : Illirska Bistrica (SLO) Mknz
26/04/2014 : Milan (F) Circolo Anarchico

04/04/2014 : St Diez (F) ...
12/03/2014 : BesanÁon (F) Pdz + STUNTMAN(f)
31/01/2014 : Fribourg (CH) Frison + DISPARAGED(ch)

20/12/2013 : Lausanne (CH) Espace autogťrť + LUSTFORDEATH(f)
21/12/2013 : Bremgarten (CH) KuZeb + RUINS(d) +...
16/11/2013 : Biel (CH) EscargotNoir +HUMANCOMPOST(f) +...
22/11/2013 : Dijon (F) Tanneries + CAVERN(f)
23/11/2013 : Nevers (F) Cafe Charbon + CAVERN(f)

ON TOUR WITH NIHILDUM (crust/I) 2013:
19/10/2013 : Bradford (UK) Means to an End Fest + INFERNOH(sw) ....
20/10/2013 : Leeds (UK) Means to an End Fest + INFERNOH(sw) +...
21/10/2013 : Nottingham (UK) The Navigation Inn +...
22/10/2013 : London (UK) The Grosvenor +AGNOSY(uk)
23/10/2013 : Brighton (UK) Cowley Pub +...
24/10/2013 : Plymouth (UK) Tiki bar +GODSICK(uk) +HUMANCULL(uk)
26/10/2013 : Bristol (UK) Subvert Fest +INSTINCTOFSURVIVAL(d) +...

17/10/2013 : Geneve (CH) + BLOODY PHOENIX(usa) +PIGS(d) +AVARIE(f)
09/08/2013 : Montreal (F) Kanivo Chaos Fest + GERANIUM(f) +...
15/06/2013 : Lyon (F) RnR Vengeance +DEATH REIGN(f)
14/06/2013 : Mauriac (F) GameHell Festival +OTAKE(f)
07/06/2013 : St Imier (CH) Toxoplasmose Fest +BLOCKHEADS(f) +...
25/05/2013 : Paris (F) Miroiterie + LAZARE(f) +...
24/05/2013 : London (UK) Scum Fest +DOOM(uk) +ACTIVE MINDS(uk) +...
23/05/2013 : St Omer (F) Gibolin
22/05/2013 : Lille (F) CCL +DER OPHTAMOLOGIST(f)
21/05/2013 : Reims (F) L'Ecluse +PERVERS(f) +KROKODIL(f)
18/05/2013 : Geneve (CH) Wagenplatz Lignon +SPANKS(ch)
12/05/2013 : Maxeville (F) Caveau +SIMBIOSE(p) +DOOMSISTERS(f)
12/04/2013 : Brainans (F) Moulin +LOFOFORA(f)
31/03/2013 : Bremgarten (CH) Kuzeb Fest +BLOCKHEADS(f) +...
09/02/2013 : Le Void d'Escles (F) +WHORESNATION(f) +DOOMSISTERS(f)
10/01/2013 : Le Cres (F) Local Libertalia +OTAKE(f)
11/01/2013 : Barcelona (E) La Jungla Festival + ...

29/12/2012 : Neuchatel (CH) - QKC +COILGUNS +MASSCONTROL(ch)
28/12/2012 : Delemont (CH) - SAS +AGUIRRE(f)
24/11/2012 : Dijon (F) Tanneries +WHORESNATION(f) +SHAIID(f)
17/11/2012 : Besancon (F) Pdz +ASIDEFROMADAY(f)

ON TOUR WITH LUST FOR DEATH (StenchCore/F) 2012 :
25/10/2012 : Freiburg (D) Schattenparker +MORKHIMMEL(cz)
26/10/2012 : Giessen (D) Ak44 +CENTURIES(uk)
27/10/2012 : Berlin (D) Kopi
28/10/2012 : Leipzig (D) Manfred +ANTARES(i)
30/10/2012 : Linz (A) Alte Welt
31/10/2012 : Wien (A) Ekh +BLOOD KATAPULT(au)
02/11/2012 : Munchen (D) Kafe Marat +SNIFFINGGLUE(d)
03/11/2012 : Bremgarten (CH) Kuzeb

12/10/2012 : Offenburg (D) Kessel +AMONG THE SWARM(d)
22/09/2012 : Le Menil (F) Chalet des Bibas +MORDARE(sp)
23/09/2012 : Nommay (F) PinkyBar +NITAD(sw) +GUILLOTINE(f)
08/09/2012 : Neuchatel (CH) KioskArt +GAZ(ch)
08/09/2012 : Biel (CH) SchrottBar Festival
21/06/2012 : Vesoul (F) Republique +PNEU(f) +MEMBRANE(f) + ...
03/04/2012 : Strasbourg (F) Molodoi +ABSOLUTIST(uk)
04/04/2012 : Nancy (F) Soap Box +ABSOLUTIST(uk)
05/04/2012 : BesanÁon (F) Arcades +ABSOLUTIST(uk)
26/03/2012 : BesanÁon (F) CDM +GAZMASK TERROR(f)
18/02/2012 : Strasbourg (F) Molodoi +DEPRAVED(f)
28/01/2012 : Thillots (F) Chez Fat +BACCHUS(uk)
18/01/2012 : Dijon (F) Les Tanneries +VISIONS OF WAR(b)

10/12/2011 : LiŤge (B) CrustMass Fest +DEAFANESTRATION(b) + ...
07/12/2011 : BesanÁon (F) La Rodia +THE OCEAN(d) +MEMBRANE(f)
18/11/2011 : Moissey (F) Manoir +INNER TERRESTRIALS(uk)...
04/11/2011 : Nancy (F) SoapBox +BRAINDEAD(d) +FLUESNIFFERS(uk)
09/10/2011 : Bienne (CH) SchrottBar +HAARMLESH(f)
08/10/2011 : Nyon (CH) Map +HAARMLESH (f) +KAZAN(f)
07/10/2011 : Freiburg (D) Kts +PLF(usa) +TINNER(sw) +...
15/09/2011 : Besançon (F) Arcades Bar +INFAME(E)
21/06/2011 : Besançon (F) Scene MightyWorm
21/06/2011 : Besançon (F) TittyTwister +HAARMLESH(f)
17/06/2011 : Besançon (F) Pdz + HIRO (f) +WHO NEEDS MAP(f)



DISCOGRAPHY :


[Lp] - 8.EUR + post. available at tankerpunx@hotmail.com


[Cd] - 2.EUR + post.
[Lp+Cd] - 8.EUR + post. available at tankerpunx@hotmail.com


[Ep] - 3.EUR + post. available at tankerpunx@hotmail.com


ON TOUR :

21/03/2015 : Liege (B) Cpcr +...



VIDEO :



PHOTO :